Join St Paul Ottawa for a three-day journey exploring assemblage art— artwork made by gathering common everyday objects and putting them together into an artful composition.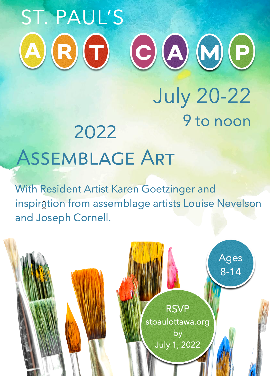 Professional artist Karen Goetzinger will introduce children ages 8-14 to famous assemblage artists Louise Nevelson and Joseph Cornell. During the three days, they will create two projects using cardboard, paper, magazine cut outs, paint, found objects brought from home, and their imaginations. Each day will begin and end with a biblically based lesson about the Master Artist and Creator.
Please note: this a half-day camp only, beginning at 9 a.m. each day and ending around noon. The Friday camp will finish with a lunch and art show that everyone is invited to attend.
$25 registration fee.